Monday - Saturday
9:00am-6:00pm
A202-203,Kaixiang Bldg.NO.50 Juyuan St., Xicha Rd., Baiyun district, Guangzhou city, China.
High Quality DTF PET Film
cold and hot peel release film,the heat transfer temperature between 130-150 ℃, the heat transfer effect completely, and no residual color.Is the commonly used heat transfer film substrate on the heat transfer market at present. Because of the back coating the adhering layer, Can prevent the adhesion failure of products from long distance transportation and pressure.And isolation of paper and transportation costs can be saved. Through multi-channel applicator precision processing and become,quickly absorb ink layer, high surface smoothness, no matter fine patterns or colors printing can achieve the ideal effect.





Features:
1.No cutting,simple and convenient
2.Easy operation
3.No waste
4.Low cost can print high quality results.
5.Soft hand feeling,excellent breathability
6.Bright and vivid color
7.Good for fastness
8.Good stretch resistance and resilience
9.Cotton,polyester and other fabric are all available to be transferred

Printing Effect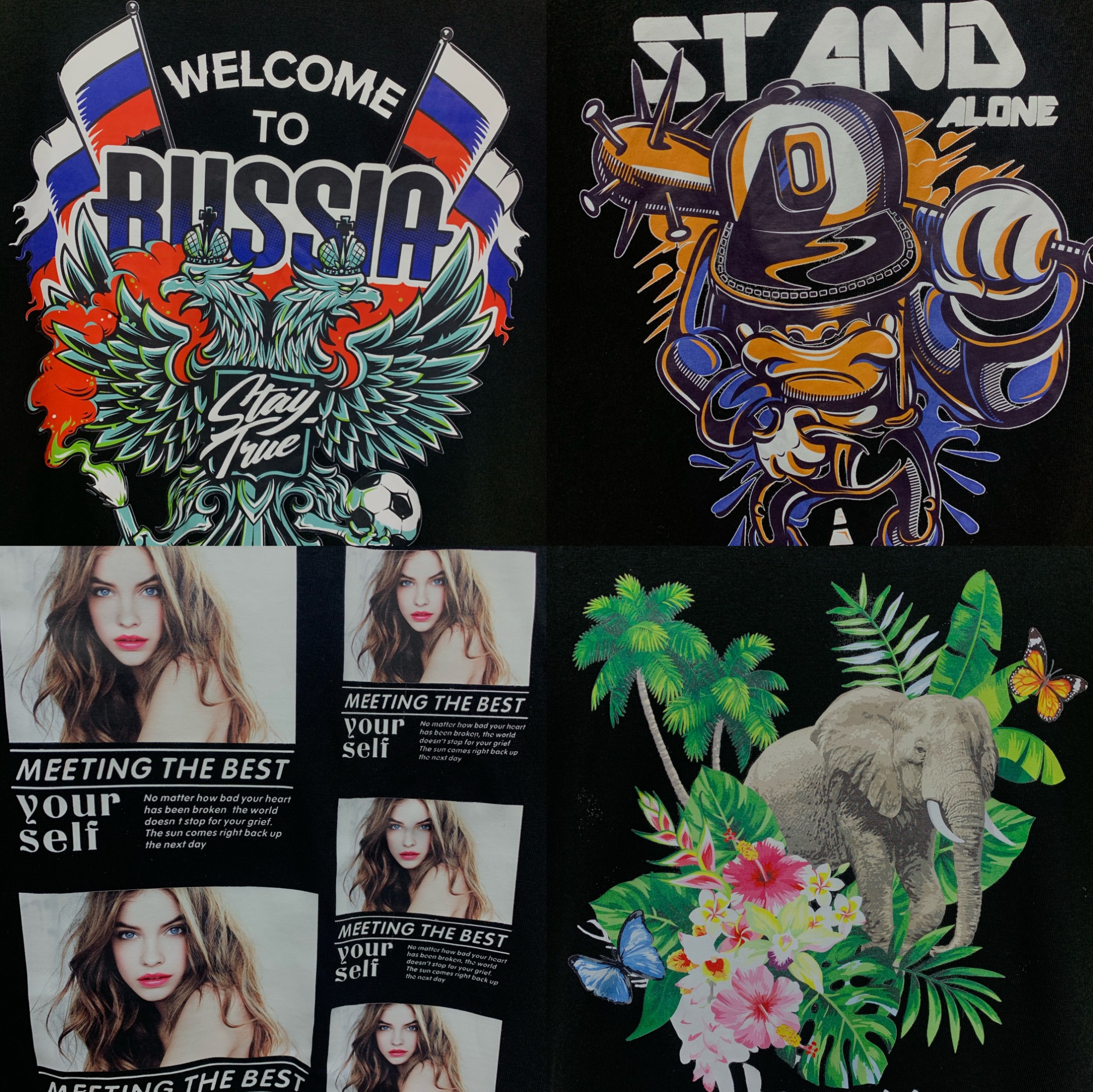 Relative Products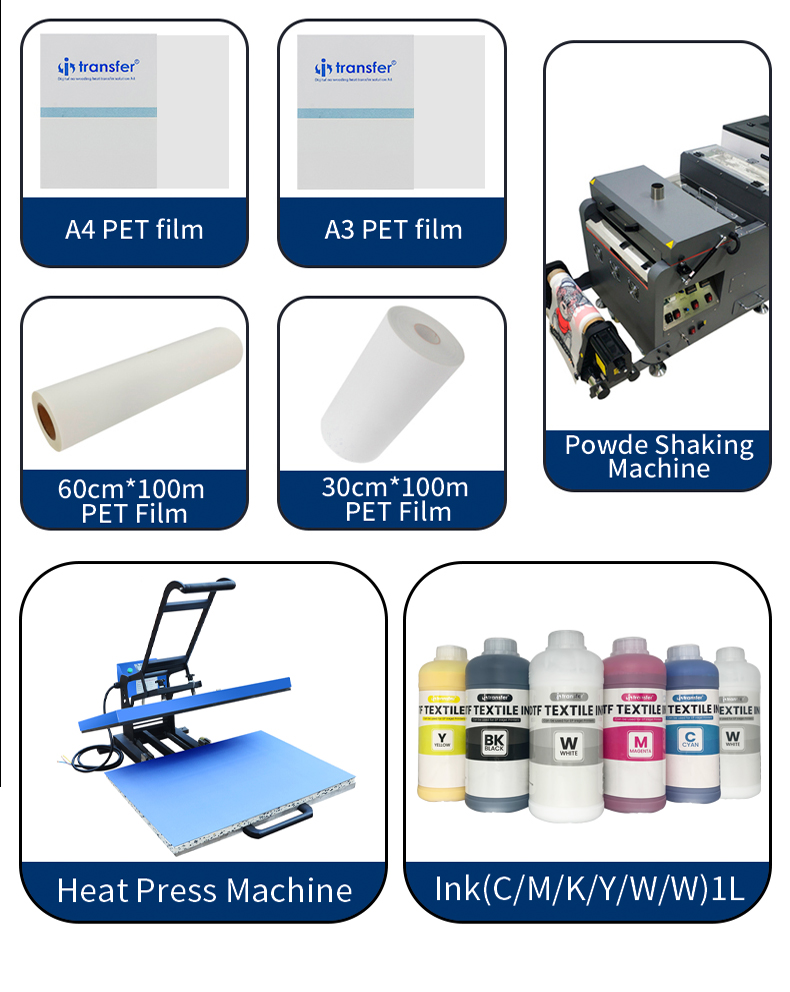 FAQ

Does DTF printing require a lot of printer maintenance?
DTF printing still requires the same maintenance that DTG needs. Just not as often. DTG ink does not clog up as bad and when clogs do happen, they are a lot easier to clean. DTF white ink still separates and will need a daily shake. Best form of maintenance is regular printing. If you print every 2 days, all you will need to do is shake the ink and run an automatic printhead clean before printing.

How much does is to cost to print an A3 sheet?
At the current rate you will roughly spend USD0.3 for powder + USD0.21 on white ink + USD0.18 on CMYK ink + USD0.8 on transfer sheet =USD1.19

Can I print on DTF film with DTG ink?
No, DTF printing requires special DTF ink. Printing with DTG ink on DTF film will make the ink run and mix with white and CMYK.

Can I put DTF ink into my DTG printer?
Yes, you can print shirts on your DTG printer using DTF ink. It's not as good as DTG ink but it will work fine. You will still need to pretreat your garments using your preferred pretreatment solution.

What printer do you recommend for DTF conversion?
We recommend Epson L1800. It has been well tested with DTF inks and performs well. Replacement parts are very cheap and readily available. This printer is well documented and has been used for DTG printing for many years. It is easy to convert and does not need any special parts. Only downside is that it's slower compared to other printers like P600.

Which printers can be used for DTF printing?
Any older printer that prints with 5 or more colours. Older printers will be compatible with most types of print rip software and will have refillable ink systems. Additional colours will allow to add white ink. Some of such printers are: P400, P600, P800,1430, R2400, R1800, R3000, R2000, R2880, R1400 etc.

Do you need special software?
Yes, you will need to use rip software such as acrorip in order to print white and colour at the same time and choke white layer by a few pixels so that you don't end up with a thin white outline.

What is the DTF washability like?
Washability is fine providing you use quality + powder and following correct application procedures. It certainly beats laser white toner transfers. 40C washing temperature is recommended.

What does DTF feel like?
The feel would depend on the type of powder you are using and the thickness of your ink layer. More ink will absorb more powder and make the overall result feel thicker. Our soft and stretchy DTF powder has better hand than traditional vinyl or other types of heat transfer. It's elastic and soft to the touch. It is not softer than DTG prints however.

What happens if I leave my DTF printer inactive for a long time?
It will clog up just like a DTG or a regular inkjet printer. If you plan on leaving your printer off for a few weeks or months,you will need to flush the lines, clean your printhead and leave it soaking in cleaning solution.